The internet connection is no longer a luxury item nowadays, but an indispensable tool (or service, if you like) for carrying out almost all of our daily activities, unless we are willing to remain analogue, but we could double if not triple the loss of time for bureaucracy, purchases and even information.
In any case, a very frequent problem, which has always been, is that linked to the extent of ours Wi-Fi networks: it often happens to have the modem/router in the main room where the electrical system provided for the telephone socket or the arrival of the Fiber, and to have poor or even no Wi-Fi coverage in the other rooms.
In the past I told you about mesh solutions using le Devolo Powerline, a very well-functioning and highly scalable solution but with only one small problem, namely the price. Today I present to you another proposal from Devolo, the WiFi 6 Repeater 5400 which is certainly cheaper but decidedly concrete in its functionality.
Devolo WiFi 6 Repeater 5400 review
Package Contents
Il contents of the package of the Devolo WiFi 6 Repeater 5400 is truly reduced and essential: inside we find, in fact, only the device and its wall power supply. Even the canonical instruction manual is absent, and leaves room for a skimpy double-sided leaflet that lets us guess how practical and fast the configuration of this device is.
Construction, design and first configuration
Before talking to you about more technical things, I want to take a look at theaesthetic and constructive aspect of the Devolo WiFi 6 Repeater 5400: it is obviously made of plastic with opaque finishes, has rather minimal lines and this is confirmed by the extreme cleanliness in the design of the product, which stands out only for the four front LEDs which form the classic symbol of the WiFi networks.
This front led it lights up red when the system is not working, while it lights up green when the connection has been established: logically, the more green bars are lit, the more it means that we have a reliable and performing network connection with our primary network.
On the bottom there is a small removable pedestal to facilitate vertical positioning of the device, while on the back there is a button for quick coupling with our network, two LAN ports and the power port.
As for how to use the Devolo WiFi 6 Repeater 5400, the company has studied two possibilities:
Access Point, where the device acquires the network signal via a LAN cable connected to the main modem, if we do not have a modem/router equipped with a Wi-Fi connection. It's the simplest way, so a product like this is definitely overkill.
Repeater, our main network signal is boosted without using any cables in between. The device is positioned in the centre, between the "white" area where there is no Wi-Fi network and the "primary" area where our main modem/router is installed.
In both cases the procedure of configuration and installation it is lightning-fast and takes place entirely via smartphone with a guided procedure that would be more complicated to describe in words than to put into practice in concrete terms. The thing to know is that for configuration in access point mode it is necessary to be connected by cable to the primary router, while for Repeater mode it is sufficient to press the WPS button on the two devices to make them enter search mode and pair in total autonomy.
Just to be clear on the technical and hardware front, the Devolo WiFi 6 Repeater 5400 obviously supports 2.4GHz, 5GHz networks and the new Wi-Fi 6 standard; it is equipped with 4×4 MIMO antennas on 5Ghz radios and is certified Mesh, this means that it can be used in cascade with other devices (even from the same company) to ensure that the system is further scalable and expandable without difficulty.
Speed ​​and stability test
I logically did some tests with my home connection which, as I often want to reiterate, is not the best: damn digital divide! Anyway my setup is as follows:
Provider: TIM ex Telecom
Type connection: FTTR (copper mixed fiber)
Flow maximum (Cable): about 55/10Mbps
Modem main: Tim Hub+
Having clarified my starting configuration, I ran some tests that I summarize in this way:
First test
Distance from the TIM Modem: 5 meters and 3 walls with closed wooden doors
Distance from the Devolo WiFi 6 Repeater 5400: 1 meter
Result: 52/9,12Mbps
Ping: 18ms
Second test
Distance from the TIM Modem: 5 meters and 3 walls with closed wooden doors
Devolo WiFi 6 Repeater: DISABLED
Result: 49,8/7,88Mbps
Ping: 18ms
As you can see, in my case the Tim router has a pretty good range and manages to fully cover the apartment of about 100 square meters in which the Wi-Fi network is well distributed, but the best part comes in the second group of tests below.
First test
Distance from the TIM Modem: 1 floor difference, about 10 meters away
Distance to the Devolo WiFi 6 Repeater 5400: 1 floor away
Result: 53,1/8,59Mbps
Ping: 18ms
Second test
Distance from the TIM Modem: 1 floor difference, about 10 meters away
Devolo WiFi 6 Repeater: DISABLED
Result: 14,9/5,46Mbps
Ping: 12ms
In this situation, the Devolo WiFi 6 Repeater 5400 becomes literally indispensable to be able to fully cover a house spread over several levels where no traditional router, not even the most expensive ones, can be able to offer high-profile performance. The only downside in my case was that I saw my ping go up by a few ms, but it's tolerable if you don't use the network purely for gaming.
Price and Considerations
The report on the kit Devolo WiFi 6 Repeater 5400 it is honestly more than positive: the device works very well, it is very simple to configure and it is literally within everyone's reach. I had the opportunity to try it for some time and I must say that even in the most intense network usage sessions (such as downloading files, gaming and so on) it has always remained stable.
However, it remains a solution for demanding users, given its cost approximately EUR 150, but personally I would advise you to spend a little more and aim for a complete product, rather than facing the expense several times with cheaper (and less performing) devices.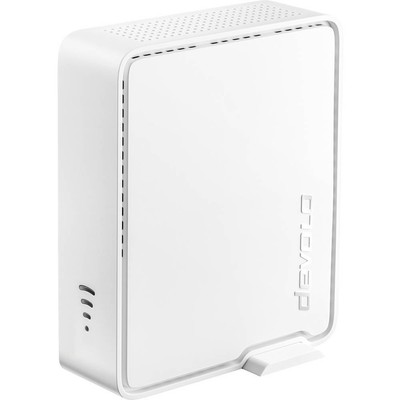 NB If you do not see the box with code or the link to the purchase, we advise you to disable the AdBlock.