Although technology is trying to become more and more wireless, there is a sector still linked to "wired" solutions in order not to have any type of input lag: Gaming. Despite this, several manufacturers have already specialized in the production of wireless devices that guarantee optimal performance and without delays. Among these we also find Tronsmart, which launched the Tronsmart Shadow, or wireless over-ear headphones that can also be used on consoles.
How did they behave during our tests? There is latency, will the audio be full-bodied? Let's find out together in our full review.
Tronsmart Shadow Review
Unboxing - Tronsmart Shadow
The sales package is made of black and red hardcover and inside we find the following equipment:
Tronsmart Shadow;
2.4 GHz USB dongle;
USB / USB Type-C charging cable;
3.5 mm audio jack cable;
microphone;
manuals.
Design and construction
Le Tronsmart Shadow have an industry-inspired design Gaming, but with a slightly more sober declination than and soft lines. In short, all this to say that you can also use them for listening to music and they would not be out of context if you want to wear them around.
The most striking note is the beautiful red coloring details, including part of the headband and seams. The headphones, in fact, are made with materials di good quality between eco-leather and aluminum, although some plastic inserts tend to scratch slightly.
Externally the Tronsmart Shadow have the pavilions covered with a metal grid that protect the RGB LED logo, while the part in contact with the ear is in memory foam, which has proved to be comfortable even in gaming sessions for several hours. The only aspect to point out is that unfortunately in the summer they will tend to make you sweat, but it is a common feature of all gaming headsets.
These can therefore be worn very well, do not put their weight excessively on our head and wrap the ear well to isolate us from the external environment. Personally, I found myself very well and, among other things, the microphone is an extension with a 3.5 mm audio jack input that can be inserted and removed at will. This means that when it is not necessary we will save ourselves the clutter of a useless bar.
The right headphone has no buttons, while the left has the volume buttons (and that will also make us change the song), the one to activate / deactivate the microphone, the power button and the USB Type-C input, as well as the 3.5 mm audio jack.
Connectivity and compatibility
Unlike traditional Bluetooth headphones, to reduce the audio latency in games, a solution has been thought of which includes a USB dongle da 2.4 GHz. Once inserted into the computer, therefore, it will automatically attach to the headphones and transmit the signal.
La compatibility of this type is guaranteed only on PC (Windows and Mac), PlayStation 4 e Nintendo Switch (only in TV mode), so there is no compatibility whatsoever, except through the audio jack, with XBOX One / S / X, PlayStation 3, smartphone e tablets.
Furthermore, we also find some restrictions when we use the Tronsmart Shadow with the cable. In fact, in the "wired" mode (with cable) we can listen game audio only, but we will not be able to use the microphone in any way. Since I am an XBOX One owner, therefore, I have not been able to fully exploit its full potential. Later I leave you a graphic that summarizes the compatibility.
However, as a computer I have noticed some great performance from these headphones, as the latency è practically zeroed and there are no particular problems related to signal reception.
To sum up this sector and summarize clearly: you can use these headphones with cable on any device, but the microphone will not work. You can use headphones in wireless mode only on PC (Windows and Mac laptops and notebooks), PS4 of any type and Nintendo Switch (only in TV mode) and take full advantage of all its features.
Audio and microphone
Le Tronsmart Shadow have a very high volume which will completely isolate us from external noises and a frequency balance that tends to emphasize the bass during the game, but still maintaining a good level of mids and highs. This is undoubtedly a plus because it will immerse us completely in the scene.
Thanks to Surround 7.1Furthermore, we will perfectly hear all the game noises based on their origin and, as already mentioned above, the latency is almost zero.
Speaking instead of the microphone, this returns good audio for games with friends or for novice streaming, but it is not for professional levels. Overall, however, it guarantees good results.
Autonomy
Le Tronsmart Shadow they have a battery from 1000 mAh which allows us to get to approx 12 hours of use I continue with volume at 50%, but that go to decrease slightly if we keep a constant volume at 100%.
When they are discharged we can use them while charging. About the latter will be necessary poco more than two hours to bring them from 0 to 100%.
Conclusions - Tronsmart Shadow
Before summing up, let's talk about price, as the Tronsmart Shadow are available on Geekbuying about 31.17 € with the coupon: NNNGIZSHADOW. This is always possible thanks to ours Telegram channels from GizDeals where we share discount codes, price errors and much more on a daily basis.
With this premise I must say that these wireless gaming headphones are excellent if used with PC or with one PS4, but if you have other consoles or for the smartphone they will not be particularly useful due to the incompatibility of the microphone.
So in conclusion: good price, almost zero latency, good build and full-bodied audio. For me it is yes! Tronsmart once again confirms its skills in the audio sector.
NB If you do not see the box with the code or the link to the purchase, we advise you to disable the AdBlock!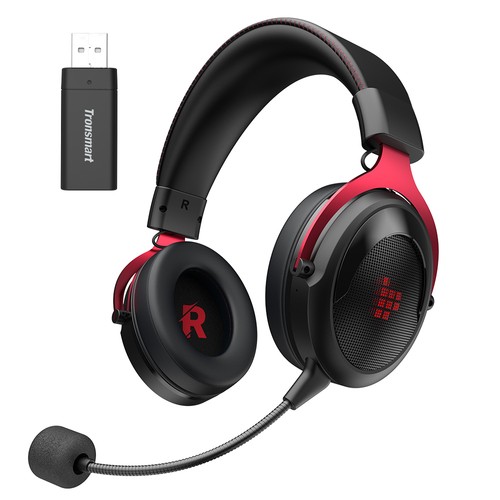 ⭐️ Discover the
new Weekly Flyer
of GizChina with always different exclusive offers and coupons
.