Bluetooth headsets with active noise cancellation are usually the most requested and wearable device manufacturers are gearing up to bring this solution even to lower price ranges. In fact, in today's review, we will analyze the new ones Tronsmart Apollo Air, or of the TWS earphones with Hybrid ANC to 35 dB.
Will they be able to meet our needs? How will they have behaved in daily use? Let's find out together in the full review!
Tronsmart Apollo Air Review
Unboxing - Tronsmart Apollo Air
The sales package is always in the Tronsmart style, therefore a colored hardcover box with photos of the product and its main features. Inside there is the following equipment:
Tronsmart Apollo Air;
charging case;
2 pairs of rubber pads of different sizes;
USB / USB Type-C cable;
manuals.
Design and construction
Le Tronsmart Apollo Air I'm super compact and thought to be pocket-sized, in fact they have a weight of only 40 grams (with the whole case) and the size of 5.99 x 3.22 x 3.70 centimeters. So they will remain very discreet even when worn, while the case will easily fit even in the smallest pockets.
However, light weight and low cost mean that the construction is entirely in plastic. In fact, from this point of view I would have expected something more since the case has a very light and somewhat fragile-looking lid.
Unlike the matte treatment of the latter, the earbuds are made of glossy plastic and give a bit of a detachment between the two. The shapes are not particularly eye-catching and we find a minimal design e practical. Finally, the earphones are equipped with water and dust resistance thanks to the IP45 certification.
The surface of the Tronsmart Apollo Air it is touch sensitive and through gestures we could perform various operations:
2 touches: play / pause or answer / end calls;
3 touches: change between ANC / ANC off / Transparent mode;
1 touch to the right: volume up;
1 touch left: volume down;
1 touch + 2 second press: activate voice assistant;
Press 2 seconds to the left: reject call;
Press 2 seconds to the left: previous song;
Press 2 seconds to the right: next song;
Press 3 seconds: turn off earphones;
5 touches: start pairing.
These are read rather well upon touch, however I think that while we have necessary functionality, the gestures are a little too much articulated and difficult to remember. It's probably only a matter of time, but the 1/2/3 tap + tap combo doesn't stay very intuitive.
The earphones however are very comfortable to wear even for several hours of use and I have never encountered any kind of discomfort even when running or during physical activity. On board we also find 3 microphones each and the pins for charging. Unfortunately, there are no proximity sensors that do not allow us to automatically pause playback when we remove the headphones.
The case, on the other hand, has two status LEDs, a USB Type-C input for charging and a button for pairing.
Connectivity and noise reduction
Le Tronsmart Apollo Air support the Bluetooth 5.2 and Qualcomm chips QCC3046 with CVC 8.0 technology, support ai aptX codec, SBC e AAC. The connection remains firm up to 15 meters away without obstacles, while during daily use I have not encountered problems related to sudden disconnections.
La latency when watching videos or movies it is practically non-existentWhile in Gaming I noted with great pleasure that it is really reduced to a minimum and even playing in competitive you will not have any kind of problem. A praise to Tronsmart that has finally brought the latency to almost 0 even on earphones sold at a low price!
In call le Tronsmart Apollo Air they behave quite well in the absence of noise, but they give their best in noisy contexts where they manage to suppress external noise very well, guaranteeing effective communication. This aspect does not surprise us at all since in the past Tronsmart he has already shown his skills also with the Onyx Ace.
Speaking of ANC, on board the earphones are equipped with a active noise cancellation, a hybrid solution to 35 dB which behaves discreetly in urban contexts. Obviously we are not talking about a cancellation similar to the one on Huawei Freebud Pro, but it is still good when compared to its price.
We will also be able to change the mode between ANC on, ANC off e Environmental Mode, which will use the microphones to let external noises shine through and be aware of what is happening in the surrounding environment. This mode is particularly suitable for physical activity outside, as we will be able to train safely.
Audio and software
Le Tronsmart Apollo Air they can count on gods 10mm graphene driver which guarantee a very high volume and a good representation of frequencies. In fact, I noticed a good balance between highs, mids and lows, with a very good predisposition for the latter.
Il sound is clear and clean and hardly undergoes alterations. Maybe it happens sometimes with some genres of music if you turn the volume up to the maximum, but trust me it is really loud. Personally I have almost always listened to songs no more than 80% of the volume.
In any case, if you are not fully satisfied with theequalization you can manage it within the app "Tronsmart". This will allow us to choose between 3 listening modes (setting them, ACN off, ACN on), modify the gestures to our liking and update the firmware of the earphones.
As already mentioned for other models of the Chinese house, a simple, practical and essential solution was opted for. That's great.
Autonomy - Tronsmart Apollo Air
Le Tronsmart Apollo Air have a 35 mAh for each headset and a unit of 300 mAh for the case. This will allow us to go up to approx 4 hours of continuous playback with ANC activated and volume at maximum, a very good result.
Obviously with lower volume and ANC deactivated you can easily get to 5 hours (if not more) and take advantage of another 4 refills from the case.
I charging times instead they are a bit slow because the headphones will need approx 2.5 hours to go from 0 to 100% and the case the same timing.
Conclusions
Despite the plastic construction, made specifically to keep costs low, the Tronsmart Apollo Air turned out to be a ottimo prodotto thanks to an out of the ordinary audio quality (in this price range), good quality in calls, latency almost equal to 0 even in gaming and excellent autonomy. Active noise cancellation is certainly that extra factor that can push us to buy them, although it only reaches sufficiency without surprising.
Until a few weeks ago the Tronsmart Apollo Air were available to approximately EUR 53, a figure that in my opinion remained important given the solutions also offered by Xiaomi, but thanks to the discount codes we share daily on GizDeals you can take them home a 41 € with coupon "NNNGIZAIR".
At these figures you can buy them without hesitation, indeed they will give you a lot of satisfaction given their quality.
NB If you do not see the box with the code or the link to the purchase, we advise you to disable the AdBlock!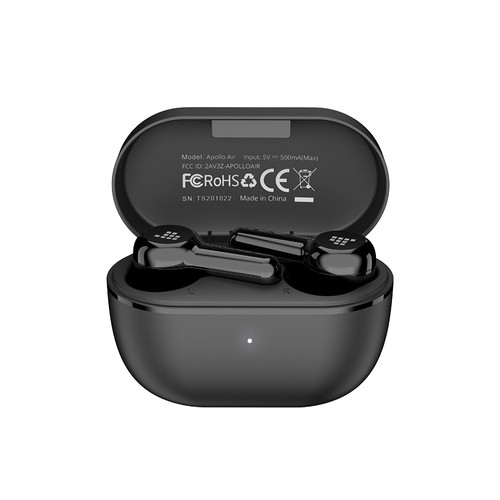 ⭐️ Discover the
new Weekly Flyer
of GizChina with always different exclusive offers and coupons
.