If you follow us closely, you will have noticed that with each new release (or almost) of the MIUI 12.5 Beta there are new features that improve the overall experience. In view of the public update in the coming months, Xiaomi users who are part of the Beta Testing can already test them in preview. And one of the latest is more than welcome, perhaps not among the most requested but the classic addition that, once tried, there is no going back.
MIUI 12.5 Beta: finally the notification panels and Control Center become more cohesive
The novelty I want to tell you about has been included in MIUI 12.5 Beta starting from the latest version released to date, the 21.1.29. As you well know, MIUI differs from most of the UI in the Android world for having chosen to divide notifications and Control Center. Instead of having a single screen for notifications and Quick Toggles, in the latest versions of MIUI there are two separate screens. This means that if you want to access the Control Center you swipe from the top on the right side of the screen, while on the left to lower the notification curtain.
With the MIUI 12.5 Beta version 21.1.29 the two screens finally become communicating. Xiaomi has decided to add one gesture to switch between notifications and Control Center: from both screens just do one horizontal swipe to switch to the other. Hallelujah!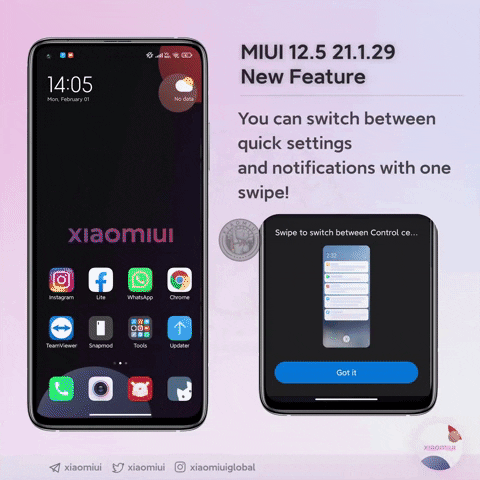 For the moment it is an exclusive novelty of MIUI 12.5 Beta from its version 21.1.29 onwards. If you want to have it, you will need to install the ROM: here you will find the guide to do it and the download link (as long as you have a compatible smartphone).
---
Are you passionate about Xiaomi? Then don't miss the our review of the Mi 11, the brand's latest super top of the range!
⭐️ Follow and support
GizChina
su
Google News
:
click on the star to insert us in the favorites

i
.