After the non-compatibility of MIUI 12 with these models Xiaomi smartphone, here is a more reassuring news: the MIUI 12.5. The novelty was announced at the same time as the new version of the MIUI 12 Beta, informing users that beta testing will be discontinued. This is for a certain period of time, thus allowing developers to focus on developing the new version of the proprietary UI. In addition to various optimizations, let's see what are the news that have been presented and those expected by the community.
READ MORE:
MIUI 12: all the bugs on Xiaomi, Redmi and POCO
Xiaomi announces the arrival of MIUI 12.5: here's what will change for compatible smartphones
Performance increases
The new MIUI 12.5 has been programmed with a hardware specific allocation for certain features. The CPU contained in the SoCs on smartphones will have pre-set priorities, as in the case of the space allocated for the management of full screen gestures. Compared to MIUI 12, where the computation was entrusted to a single-core, now the multi-core of the processors is used to increase performance.
System UI rewrite work ensures 20% reduced memory usage, while still delivering better animations. At the same time, the system apps in the background occupy 35% less and the consumption drops by 25% (those of Super Wallpaper by 40%.
New visual, sound and tactile effects
Thanks to the improved performance, in the MIUI 12.5 the animations, with greater consistency with the general UI and advanced fluidity.
Xiaomi has also revised the management of graphic movements, scaling it according to the specifications of the smartphone on which the MIUI 12.5 runs. In terms of fluidity, the top of the range will thus be able to exploit their power to enjoy better visual effects.
In the MIUI 12.5 they were also introduced new sound effects, for ringtones, notifications and system effects, inspired by the world of nature. Xiaomi has joined forces for sound recording around the world, from African grasslands to South American forests.
Strong of a progressive improvement of the Mi Haptic vibration motor on their smartphones, Xiaomi has also improved the tactile feedback. A new library of vibration effects has been integrated for when moving within UI and system apps.
Less and less bloatware
Xiaomi wants to make MIUI ever closer to iOS, but not in graphic terms, but in qualitative terms. Compared to the counterpart of competitors such as Huawei, OPPO, Vivo and Meizu, the MIUI 12.5 only counts 9 pre-installed apps which cannot be uninstalled. These include the basic apps for a smartphone: Phone, Messages, Browser, Mi Store, Settings, Camera, Gallery, Alarm and Security. We remind you that in Europe some of these apps (such as Phone and Messages) will be replaced by the Google counterpart.
New Super Wallpaper
On the occasion of the launch of Xiaomi Mi 11, two new Super Wallpaper were presented, dynamic wallpapers that dynamically connect lock screen and home. Snovy Mountain features a mountain peak, with a dynamic lighting effect that follows the daily cycle. Geometry includes a set of moving geometric shapes.
You can already find them in our download dedicated article.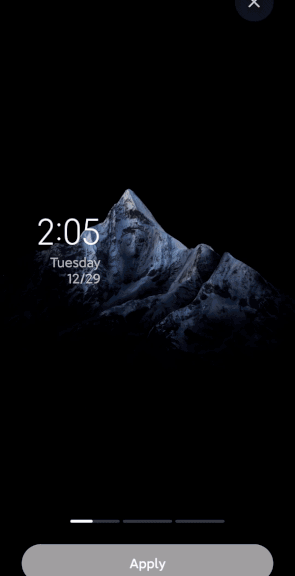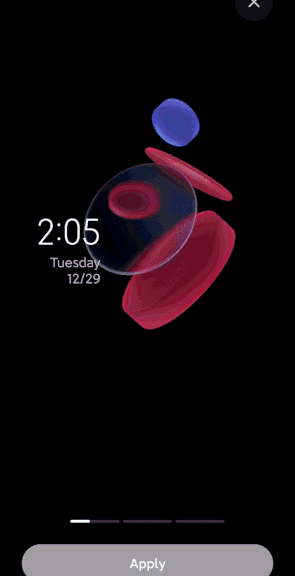 Privacy improvement
One of the most interesting news of MIUI 12.5 concerns a enhancement of security and privacy. This thanks to a camouflage of the GPS, preventing apps from knowing the precise location we are in. By doing so, the result will be a circular area that will mark the location zone, rather than the precise point. It will be possible to choose which apps to exclude from the block, as in the case of satellite navigation through Google Maps and the like. On the screen Get location info the options will be available Nega, Report, While using the app e Everlasting.
Xiaomi has also increased the degree of protection for the Clipboard, as well as the "sandbox" mechanism system that protects photos and private information within the system. The browser is now able to block downloads from suspicious web pages and track its use.
MIUI + is the new Desktop-like mode
Initially introduced in the form of Screen Combo with some versions of the MIUI 12 Beta, with the MIUI 12.5 MIUI + was introduced. It is the feature most similar to the much desired Desktop mode, even if in reality it is a wireless synchronization between smartphone and Xiaomi notebook. Once activated, you will have a mirroring of the smartphone screen on that of the PC, being able to manage it via mouse and keyboard.
New for the Notes app
The Notes app has been revisited with MIUI 12.5, with a more organized structure, easier writing, drag and drop, concept maps, new brushes, optimizations for manual drawing, graphics and connection lines and more.
News not announced but coming / expected
New notification center
The renewed display of notifications natively integrated by Android 11 should be introduced with MIUI 12.5. We talk about it in more detail in this article.
Recent apps screen
With MIUI 12.5, screen customization should be added where we see the latest recent apps that have been run. The app preview will be possible to arrange it both vertically and bring it back to the horizontal view we had on previous versions of the UI.
New Power button menu
It initially appeared to be a fake, but then Xiaomi has really changed the menu that appears when you press the power button. The renewed shutdown screen should be included in MIUI 12.5, with a slider that will allow you to choose between shutdown and restart.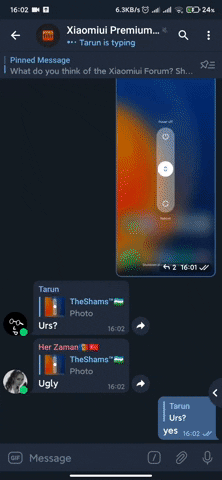 New audio controls
In MIUI 12.5 the UI should be renewed for the volume control, with new animations for its management. Below the main bar we see the dedicated keys for activating the Ringtone and Do Not Disturb mode. By clicking on the three dots, moved from bottom to top, you access the advanced controls, which remain unchanged in functionality but changing in appearance.
Also new for the camera
With MIUI 12.5 a redesign of the photo app of Xiaomi smartphones. A graphical display of the available modes should be included, allowing the user to better understand which photo and video features to set.
Photo conversation in PDF
Inside the Gallery in MIUI 12.5 the possibility of convert quickly images contained in PDF files. Just take the desired image and, from the item "Add to album", Select the option"Create PDF".
New Cleaner interface
The interface of the Cleaner screen should be renewed with the arrival of MIUI 12.5.
Other news of MIUI 12.5
Taking into consideration the other indiscretions, the news of MIUI 12.5 would include other news for Xiaomi smartphones. There is talk of new animations for unlocking with the fingerprint, new icons, Bubble notifications of Android 11, Super Resolution mode for the camera, voice controls and new UI for QR scanning.
Complete changelog
System

Gesture response is now instant
With 20x more rendering power, there are now few limits to what you can see on screen.
With custom adjustments based on device model, any phone gets faster after the update.
MIUI becomes lighter, faster and more durable.

System animations

A new animation framework makes movement more realistic.
The new UI design focuses on realistic visualization and interaction with the device.

System sounds

Nature mix is ​​an exciting new way to create your own notification sound system.
Hundreds of system sounds representing animals from all over the world.
Stereo system sounds.

Super wallpapers

Super Wallpaper of Mount Siguniang.

Privacy protection

You can now see which apps access your clipboard and control access to them.
Using the approximate location adds points to privacy protection.
You can manage sensitive permissions and related app behavior independently.
The behavior of web pages is also monitored, which helps you block unwanted and harmful actions.
It is up to you to decide who and when to monitor your online behavior.
All apps now come with a GetApps security statement.
Privacy Risk Scanner.
Check which apps access and delete items from your Gallery.
A complete overview of all sensitive permissions.
You will be notified whenever high-risk permissions are used and can block corresponding actions.
A brand new page on privacy protection.

Notes

Compose mind maps with complex structures.
New tools for scribbling and drawing.
Press and hold a sketch to automatically adjust the strokes.
A gesture shortcut now allows you to create notes, tasks and excerpts anywhere.
Excerpts save texts, URLs and images in Notes with just a few simple taps.
Dynamic layouts take typography in Notes to a new level.
Completely new notes.

MIUI +

You can combine your phone and computer in one workstation.
You can view MIUI notifications and open phone apps on your computer.
Apps from the phone can be transferred to the computer.
Items copied to a phone can now be pasted to the computer and vice versa.
Photos and screenshots from a mobile device can be used immediately on a computer.
Web pages can be seamlessly transferred from one device to another.
You can transfer files to your mobile device using the "MIUI +" panel of your computer.
New "File Manager" and "Notes" for computer.

Mobile windows

Instant messengers now support floating windows.
Floating windows can be quickly replaced with full-screen versions of apps.
App flashcards show key information when apps are displayed as floating windows.
Learn more about the new features in "Special Features".

Xiaomi Health

You can now measure your heart rate using the camera.
Start recording your running, walking and cycling workouts manually and enjoy many online training lessons.
Automatic training recognition is now much more accurate.

Home screen

"Ripples" animation for app download.
Entrainment "Burst" for uninstalling apps.
New design for app folders.
A vertical layout for Recent.

Casting

The aspect ratio is automatically adjusted on the external monitor during transmission.
App audio that is streamed in a floating window is separate from the other audio.

Xiaomi Cloud

The password manager allows you to store passwords in the cloud.
You can share the location of the device with other people in your family sharing group.
Location information can be recorded automatically before the device turns off.
Convert images to PDF.

Mi Carrier

You can now manage multiple SIM cards.

MY

A more convenient way to move a cursor using the scroll bar.
Function buttons support switching between languages ​​and keyboards.
You can hold down the function buttons to access more functions.
Custom keyboard themes.

Temi

Third party font weight adjustment options.
Customization features for system wallpapers, animations and sounds.

Browser

Wallpaper customization in Lite mode.
Redesigned Incognito Mode.
Pages load much faster now.

Mi Family

You can now manage multiple SIM cards.
Refurbished Device Control Center.

Research

Local search results are now sorted automatically.
All new design.
When does MIUI 12.5 arrive and which models will be updated?
Xiaomi will release the MIUI 12.5 update first in the form of Beta and then Stable. The roadmap consists of three main release stages. It starts from China Closed Beta, in turn consisting of two phases: the first has already started, the second from mid / late January.
First phase

Xiaomi

Mi 11, Mi 10, Mi 10 Pro, Mi 10 Ultra, Mi 10 Youth Edition, Mi 9, Mi 9 SE, Mi CC9e, Mi CC9 Pro

Redmi

K30 4G, K30 5G, K30i, K30 Pro, K30 Ultra, K30S, K20, K20 Pro, Note 9 5G, Note 7, Note 7 Pro, 10X 5G, 10X Pro

Second phase

Xiaomi

Mi 9 Pro 5G, Mi CC9, Mi CC9 Meitu Edition

Redmi

Note 9 4G, Note 9 Pro 5G, Note 8, Note 8 Pro
Months later, Xiaomi announced that the following models will also be updated: Mi 8, Mi 8 Explorer, Mi MIX 3 and Mi MIX 2S.
Meanwhile, the MIUI 12.5 Beta program has been launched: in the dedicated article find all compatible models published so far and the download link. The Closed Beta will be followed by China Weekly Beta, starting from mid / late January. Finally, the first China Stable will begin to spread from end of April 2021 and they will be for Mi 11, Mi 10, Mi 10 Pro and Mi 10 Ultra.
... and the MIUI 13?
We would like to remind you that the release of MIUI 13 is still far away in time. Although it has already been rumored on several occasions, the expected release date sees it public in several months. But if you are still curious to know more, we remind you that we have spoken of its novelties and to the smartphone that should receive it.
⭐️ Discover the
GizChina Advent Calendar
with 25 super offers to unveil every day until Christmas
.