Expected by many, I live APEX 2020 it's finally official. For some years the manufacturer has carried on this tradition, that is to propose a smartphone halfway between reality and concept phone. And this new model of the APEX family makes no difference, integrating innovative and in some cases even unprecedented technologies. From , a unit at the top of the sector, but also passing through camera, battery and not only.
READ MORE:
Vivo Z6 5G official: Snap 765G, 48MP quad camera and 5.000 mAh
I live official APEX 2020: everything you need to know
Obviously the first thing you notice on Vivo APEX 2020 is the large AMOLED display, a FullView Edgeless panel from 6.45 "Full HD + (2330 x 1080 pixels) in 19.5: 9. Its particularity lies above all in being Waterfall, or "cascade" and one with the side frame. This is made possible by curvature at 120 ° which makes it even more enveloping than seen, for example, with the Vivo NEX 3 itself.
As you can see, apparently there is no selfie camera, but the truth is that the sensor from 16 MP è below the display. Like OPPO, Vivo has also decided to embrace this innovation, acting directly on the screen. To do this, it was necessary to change the pixels above the camera, increasing the light transmittance by 6 times. Vivo then claimed to have created ad hoc algorithms to ensure a certain photographic quality, although we are curious to see the shots and evaluate them accordingly.
No less important is the hardware system, based on Snapdragon 865, 12 GB of RAM and 256 GB internal storage, as well as with support 5G ed Android 10 as OS. And so far everything is normal, for a top of the range 2020, but if you analyze the battery you notice that there is something "anomalous". Yes, because Vivo APEX 2020 supports the wireless charging to 60W, a record for this type of standard. Just think that it is capable of charging a 2000 mAh in just 20 minutes, results unthinkable until not too many years ago. We still don't know what the actual amperage of the Vivo flagship is, but what is certain is that there is no USB port, therefore no wired charging.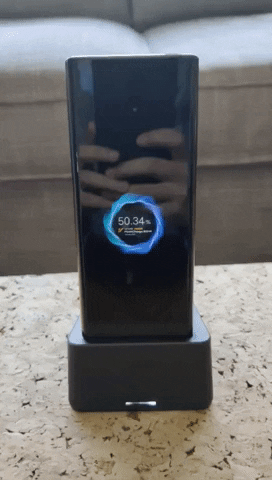 But it doesn't end there. Vivo APEX 2020 has no speaker, relying entirely on the function of Screen SoundCasting, thus taking advantage of the screen vibration for the propagation of audio. Furthermore, there are no physical buttons to control the volume and instead of the Power button there is a button with tactile feedback.
We conclude with another key aspect of Vivo APEX 2020, namely the camera. Although it has "only" two sensors, a has been inserted telephoto with an optical zoom actually able to move. Thus we pass from a focal length of 5x at a maximum of 7.5xall in a thickness of only 6.2 mm. In doing so, the new APEX has a not so large overall thickness of 8.8 mm and a weight of 169 g.
Looks so narrow and tall pic.twitter.com/IIMasK6dL2

- Ben Geskin (@BenGeskin) -
Without forgetting the primary camera, one 48 MP equipped gimbal, a hardware upgrade does not give poco compared to traditional OIS stabilizer. If the latter acts only on the horizontal and vertical axis, the Vivo cardan system works at 360 °. The result, according to Vivo, is that the stabilization results improved by 200%, in favor not only of videos but also of night shots, being able to count on long exposure times.
Price and date
If you were wondering if and when Vivo APEX 2020 will be released, for the moment you will have to be patient. As always, this very first model does not yet have a release date, if it ever will. The concept of this series is to show what the manufacturer is capable of, rather than offering a concrete device for sale. It is more likely that these technologies will be included on the next top of the Vivo range, although it cannot be excluded that a re-visit will reach the shelves later in 2020.
⭐️ Discover the
new Weekly Flyer
of GizChina with always different exclusive offers and coupons
.